In announcing significant cuts to development cooperation, the Government of the Netherlands abandons those most at risk of poverty, conflict and environmental destruction. Women and girls* in the Global South will be disproportionately affected, and the government's budget decisions undermine their commitment to gender equality and feminist foreign policy.
Once hailed a pioneer in international development and gender equality, the Dutch government risks sabotaging its pioneering position by cutting development cooperation by over €300 million in 2023 and by €3.5 billion by 2026. We are deeply concerned about the impact these cuts will have on the feminist groups and movements, and structurally excluded communities that play a critical role in ending inequalities and injustice for women and girls in Southern countries. The budget cuts rob the activists and movements working courageously around the world, in the face of significant threats to the safety of their families, homes and themselves, to tackle the root causes of poverty, inequality, conflict and environmental destruction. These are global, interlocking crises that will continue to displace people, if the Dutch government turns its back on its Southern partners now.
The government's action is counterproductive: slashing the development cooperation budget now will have greater costs long-term, rolling back hard-won progress in human rights and climate action, as well as squandering opportunities to advance global development agendas. It is, indeed, the riskier course in our current global reality.
We call on the Minister for Foreign Trade & Development Cooperation to stand firm, reverse the budget cuts and re-commit to her priority to tackle the root causes of poverty, terrorism, irregular migration and climate change, to achieve the United Nations' Sustainable Development Goals (SDGs) and implement a true Feminist Foreign Policy.
We call on the Minister of Finance who prioritised prevention and addressing root causes in her previous role as Minister of Trade and Development Cooperation to halt the budget cuts and withdraw from undermining her previous investments.
We urge the Dutch government to step up to secure a better world for people and planet and fulfil its commitments to gender equality. To do so, the government must reconsider the budget cuts and prioritise long-term, flexible funding to address the root causes of global crises. Backing the activists on the frontline – with tangible resources as well as political will – is the true financially-sound solution to building a more just, joyful and sustainable world for us all.
* "Women and girls" refers to women and girls and anyone who faces sex or gender discrimination such as non-binary, gender non-conforming, trans and intersex people.
Signatories
Count Me In! consortium comprised of AWID, Mama Cash, CREA, JASS, UAF and UAF-Africa, and strategic partners Red Umbrella Fund and Wo=Men
Global Alliance for Green and Gender Action, consisting of FCAM, Both Ends and Mama Cash
Our Voices, Our Futures comprising CREA, the Association for Progressive Communications (APC), UHAI -The East African Sexual Health and Rights Initiative and WO=MEN and strategic partner IM-Defensoras
Power Up!, consisting of Just Associates, Yayasan Pemberdayaan Perempuan Kepala Keluarga and Gender at Work
Women Gaining Ground, consisting of Akili Dada, CREA and IWRAW-AP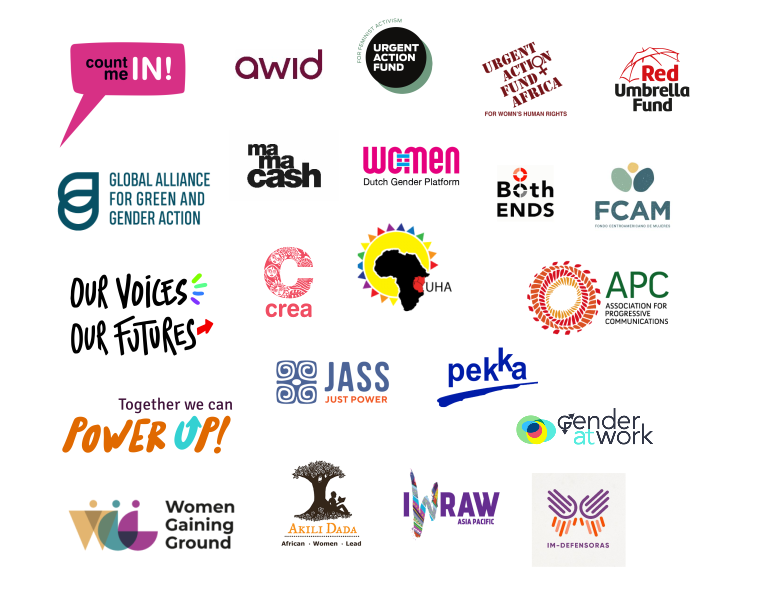 Click here to read this letter in Dutch.