Indonesia's plan to move its political capital from Jakarta to the sweeping green expanses of Borneo is expected to cost 32 billion USD. But the real price is the threat to the land and livelihoods of its population that could spell ecological disaster for the country and beyond. Indigenous women activists are working to build leadership among the community as they race against the clock to sound the alarm about the threat to one of the world's oldest stretches of tropical rainforest.
The new capital city project is the latest addition to a long line of rapacious extraction in East Kalimantan. The region has a history of illegal logging, with lush landscapes replaced by the palm oil industry, currently the leading cause of deforestation in the province. In fact, 40 percent of the land in East Kalimantan is occupied by extractives.
This is why Pipi Supeni, a 34-year-old Indigenous community organiser from the Dayak Benuaq community, has been fighting to defend the land and identity of her people for years. She is a community organiser for Perempuan AMAN (Aliansi Masyarakat Adat Nusantara or Indigenous Peoples Alliance of the Archipelago), a group that focuses on Indigenous women's rights. She is also a member of the Forum Aktivis Perempuan Muda Indonesia (FAMM-Indonesia or Young Indonesian Women Activists' Forum), a network of 380 young women, formed following years of leadership training organised by the feminist movement building organisation JASS.
Indonesia's Indigenous population has long faced discrimination and is constantly threatened or attacked for speaking out. Indigenous activism, based on ancestral knowledge, is often patronisingly branded as "anti-development." This age-old tactic is used by the government to perpetuate negative messages about the population in the media- portraying them as poor, uneducated and unable or unwilling to participate in modern life. The goal is to discredit their activism and exclude them from decision-making. Compounding the issue is the fact that the government does not recognise Pipi's community as Indigenous Peoples.
"They refer to us only as local community residents. Therefore, there is no recognition from the Indonesian government to protect our rights as Indigenous Peoples, especially indigenous women," says Pipi.
In 2021, JASS and the Count Me In! consortium partners created a toolkit aimed at supporting women land defenders in their activism against extractive industries. The toolkit, which was developed based on several years of Feminist Popular Education Processes with activists, helps women identify the drivers and actors behind extractive projects, providing critical knowledge for them to activate and leverage collective power for demanding accountability. A year later, JASS organised a series of regional workshops to launch the toolkit, which proved highly relevant to activists' work and significantly advanced local-level advocacy.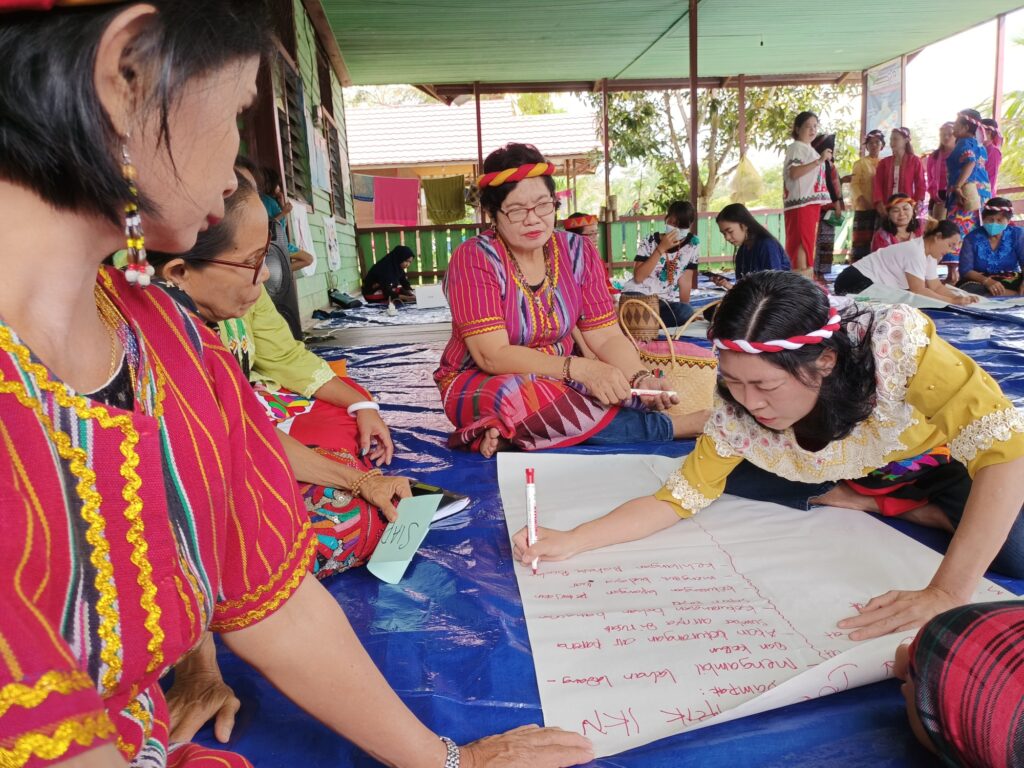 For example, at an audience meeting with the local government, PEREMPUAN AMAN-Lou Bawe shared how the extractives project created a very difficult and dangerous living environment for them due to land grabbing, threats and violence by companies backed up by gangs, police and military, in addition to the disasters resulting from the project, such as flooding, landslides, and forest fires. The meeting was seen as a major breakthrough given that local government officials have historically viewed the activists as adversaries.
Members of the Dayak Benuaq community, to which Pipi belongs, recognise the need to build a strong and united community to sustain their struggles and achieve their goals. To do this, they use various strategies for organisational strengthening, including creating safe spaces and organising reflection sessions for women. They also reach out to young people for training, in the hope that they will carry the torch as future leaders themselves. A crucial factor in their success is the continued building and regeneration of the movement leadership of Indigenous women in PEREMPUAN AMAN-Lou Bawe.
"We have been active in the national-level processes on navigating extractives, using the toolkit as a guide. We believe that this toolkit will particularly help community organisers like us who are facing the impacts of these destructive projects," Pipi asserts.
As part of CMI!, JASS also facilitates safe spaces that foster an environment of political trust, where women can openly and honestly discuss their fears, risks, and conflicts, a strategy that Pipi has adopted in her own organisation. This boosts the capacity and confidence of the Indigenous women in PEREMPUAN AMAN-Lou Bawe to engage with social and political actors to work towards reclaiming their land and territory.
Banner photo: Pipi Supeni talking. Credit: JASS
This is one of the seven stories we have published as CMI! Stories of Change 2022 under the #FundWhatWorks campaign. The stories aim to portray how activists and organisations around the world are working to advance gender justice.