Feminists and social movements from around the world have mobilised together in a stunning show of collective action to challenge UN Women over its partnership with BlackRock Inc, an investment company known for driving climate injustice, blocking labour rights and impoverishing women and other marginalised groups through its support of the world's big polluters. The successful campaign has galvanised energy in feminist circles and fuelled a determination to keep pushing to block corporate power from encroaching on multilateral and policy-making spaces. 
In May 2022, UN Women and Black Rock Inc, announced a partnership "to cooperate in promoting the growth of gender lens investing" as part of an agreement signed at the World Economic Forum in Davos.1 The news sparked outrage among feminist and social justice movements because the asset management firm is the largest investor in fossil fuels and deforestation-linked agricultural commodities. BlackRock's investments are damaging the climate, violating the rights of Indigenous Peoples and sabotaging peace by investing in military and civilian weapons.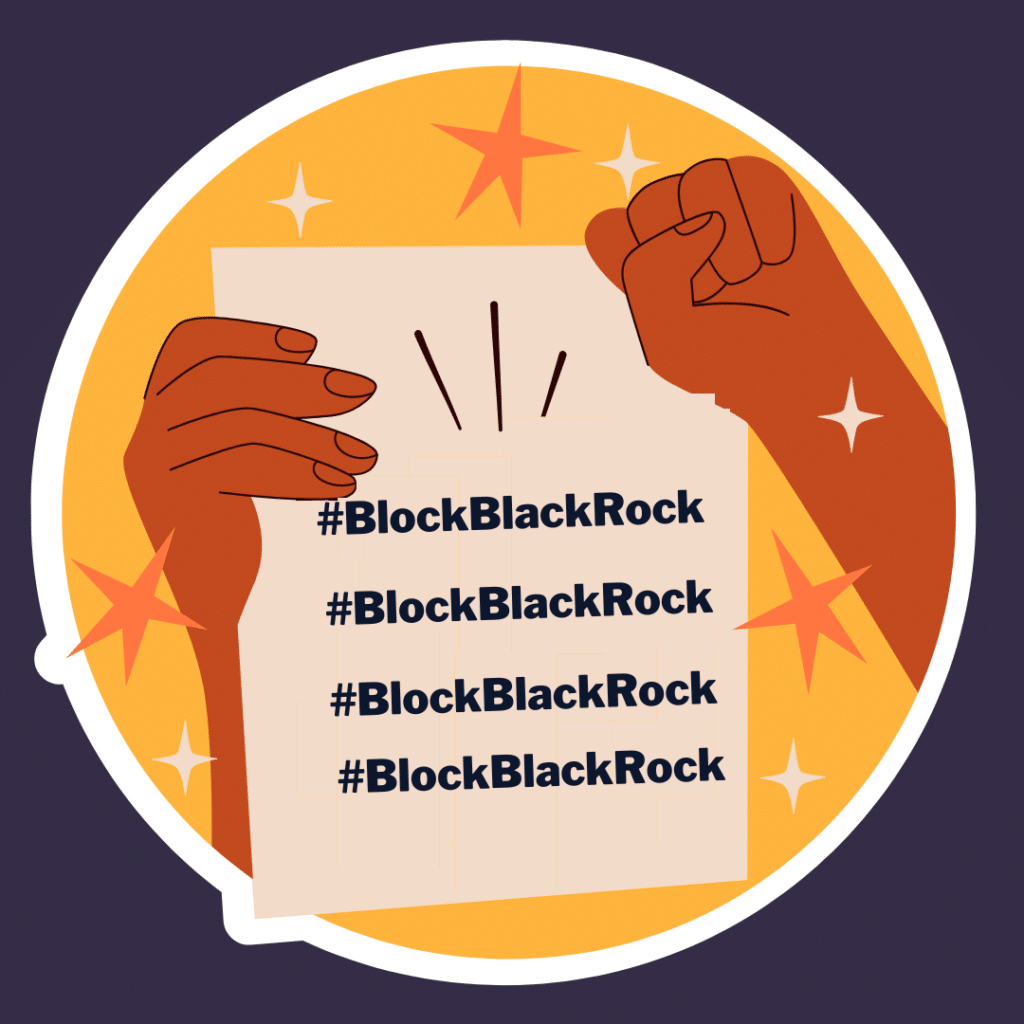 In response to the announcement, a group of feminist activists got together to try to overturn the decision by UN Women and to hold them to account. They drafted a powerful letter laying out their objection to the partnership and collaborated with WEDO and the Association for Women's Rights in Development (AWID), two movement-building organisations with strong precedents in mobilising for feminist economic and climate justice, to amplify their message. A press release was swiftly issued, and a social media kit was created for the campaign named #BlockBlackRock. This powerful collaborative action translated into the letter garnering signatures from over 700 women's rights organisations, feminist activists and allies, and the story made headlines in large media outlets.2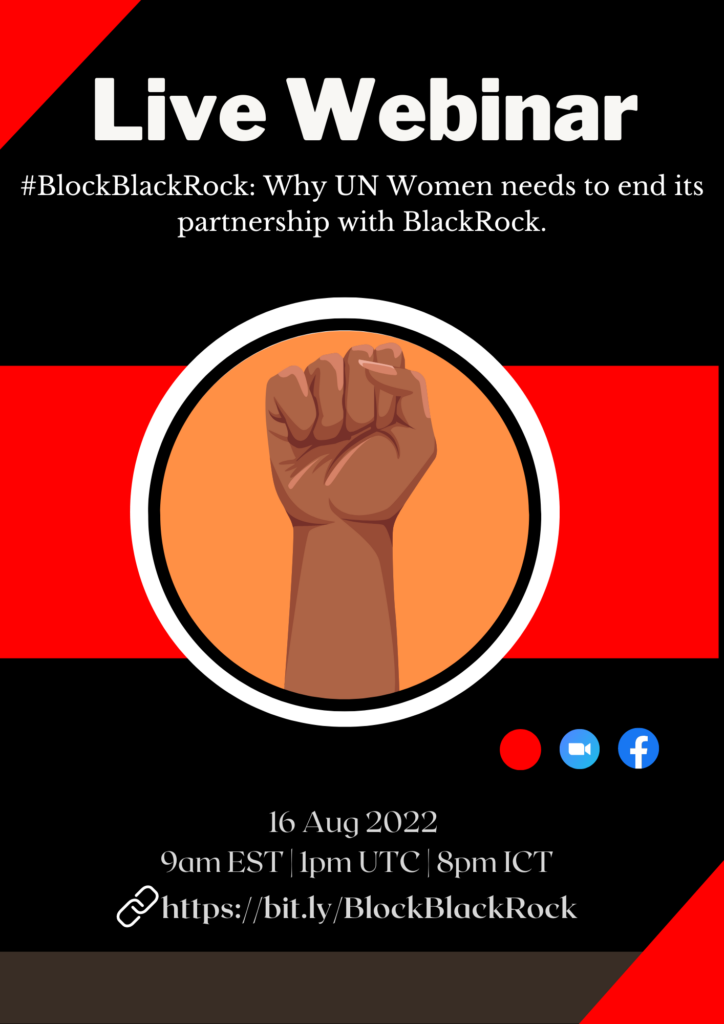 In mid-August, a webinar was also organised to further expand on the dangers of this partnership, attracting over 200 participants, including representatives from UN Women. The webinar was co-organised by WEDO, AWID, and Equidad de Género, Ciudadanía, Trabajo y Familia and brought together other groups like SOMO, No Tech for ICE, Friends of the Earth, Amazon Watch, the International Association for Feminist Economics, Public Services International, as well as independent activists.
The strategy paid off. By the end of August 2022, UN Women terminated the partnership with BlackRock. But this was only the beginning of the road for the feminist activists who spearheaded this effort. They insist there is still more work to be done to keep up the pressure against corporate partnerships and corporate capture as expressed in their statement. "As advocates of feminist economic justice, we will continue to monitor and interrogate the UN's strategy with the private sector."3 The concerns over such private partnerships are not limited to UN Women, they said. "We emphasise the need for a feminist, people-centred multilateralism that prioritises human rights and social justice over corporate profit."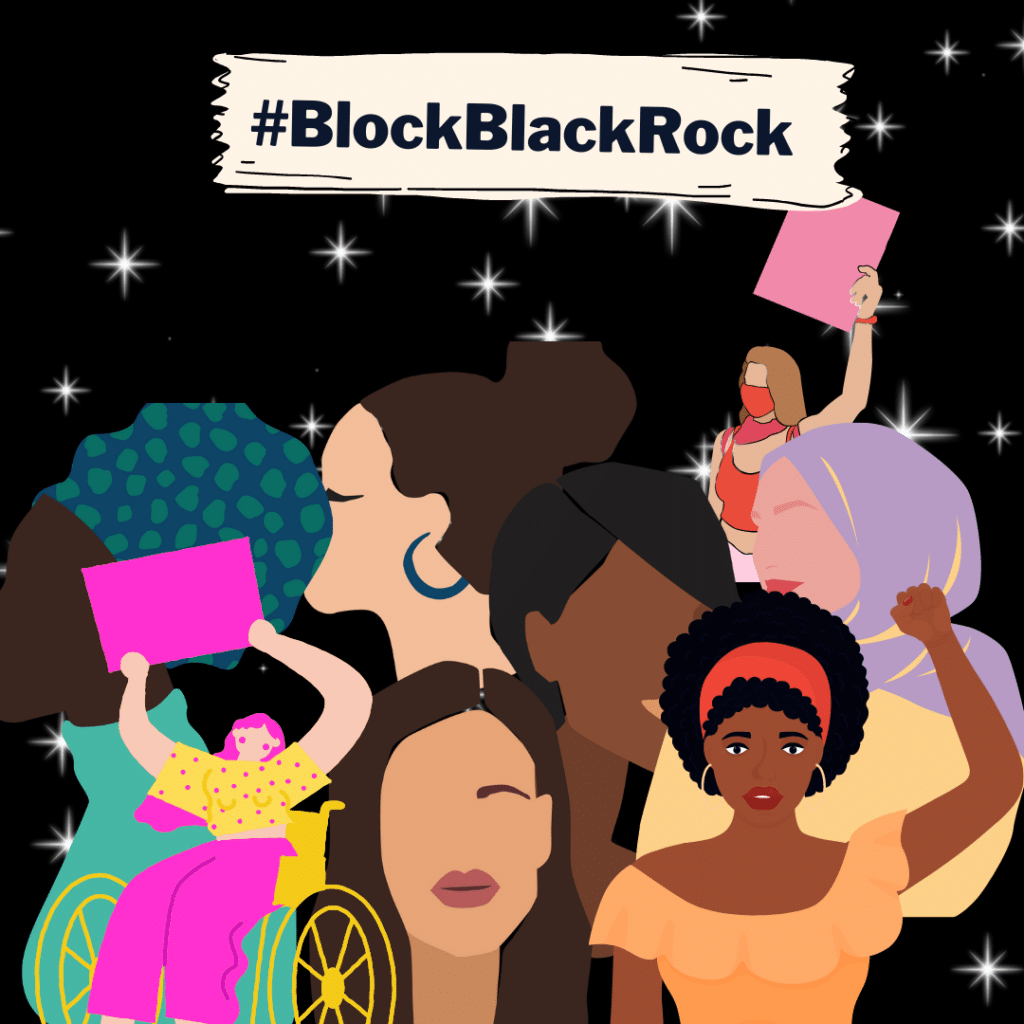 This experience demonstrated the importance of cross-movement action and the power of working collectively. It also highlighted the interconnected nature of agendas and affirmed the need to pursue cross-movement building. Engaging on #BlockBlackRock meant looking at debt, conflict, the climate crisis, private finance, Big Tech, the border industrial complex and more. All our struggles are connected; by making these connections, we grow the power of the people to organise.  AWID's role in the BlockBlackRock mobilisation directly feeds into CMI!'s focus on expanding space for feminist principles by influencing relevant international entities. By connecting movements and actors worldwide and bringing a collective voice to the policymakers, CMI! through AWID has implemented movement-building and change-making strategies to reach impact. 
1https://esgnews.com/blackrock-and-un-women-to-promote-gender-lens-investing/
2https://www.awid.org/news-and-analysis/press-release-over-700-womens-rights-organizations-and-feminists-demand-end-un
3https://www.awid.org/news-and-analysis/bigger-blackrock-challenging-un-corporate-partnerships
This is one of the seven stories we have published as CMI! Stories of Change 2022 under the #FundWhatWorks campaign. The stories aim to portray how activists and organisations around the world are working to advance gender justice.