This blog post is written by Vera Rodriguez, Red Umbrella Fund.
Friday 18th of March was the date. For months, the Sex Workers Working Group of the Count Me In! consortium prepared for this day with the Global Network of Sex Work Projects -NSWP, co-sponsor Dutch Ministry of Foreign Affairs and other organisations including CNV Internationaal and the government of New Zealand. On this day, the United Nations Commission on the Status of Women (CSW) hosted our side event 'Strengthening Labour Rights through cross- movement collaborations: trade unions, sex workers organisations and feminist groups', which shed a light on effective approaches to protect and strengthen the human rights of sex workers.
This was the fourth consecutive year that CMI! consortium, NSWP, and the Dutch Ministry of Foreign Affairs successfully co-organised a side event within CSW. This year, we organised the event around CSW's review theme: 'women's economic empowerment in the changing world of work.'
So, what are the main takes from this powerful session?
A wealth of experience
The session was moderated by Geetanjali Misra, Executive Director at CREA, one of the Count Me In! members. The panel highlighted the importance of intersectional approaches and cross-movement collaboration among feminist, sex workers' rights and labour rights groups. As Geeta pointed out during the opening of the event: "We want to highlight the importance of this collaboration of participants and cosponsors as it is quite unique to have two governments where sex work is not criminalised [New Zealand and the Netherlands] co-sponsoring this session and to have representatives of the sex workers' movement and labour unions at the same table, chaired by a representative of a feminist consortium."
Together, panelists and moderator made efforts to highlight the importance of intersectional approaches and cross-movement collaboration among feminist, sex workers' rights and labour rights groups. There was a very rich line-up of panelists where sex workers, representatives of trade unions, the Dutch Ministry of Foreign Affairs, and a National AIDS organisation shared powerful messages. Below are some key points shared by the panalists: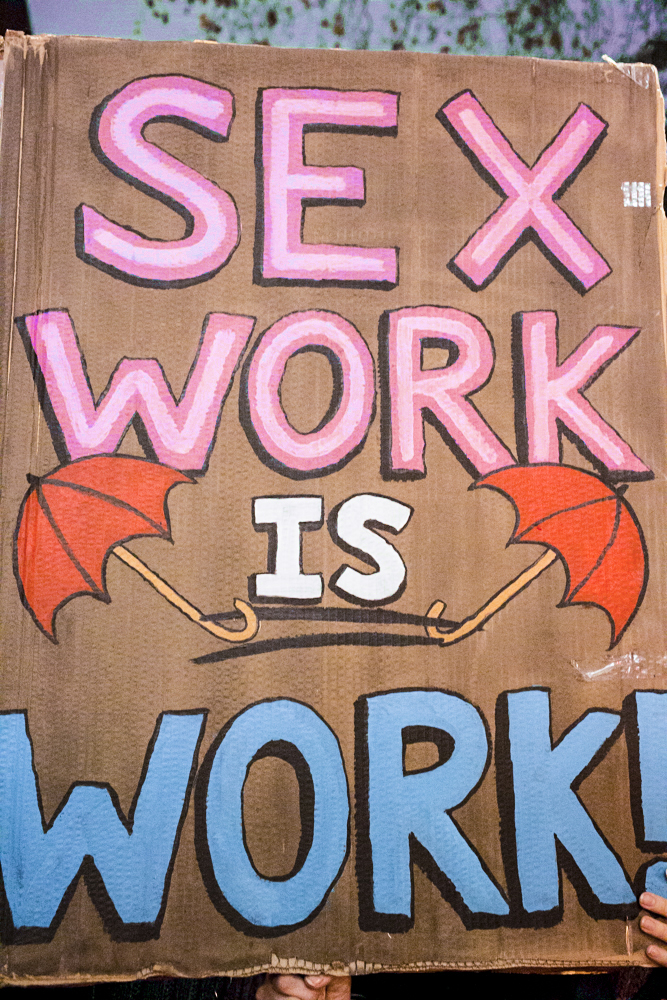 Conxa Borrell, President of APROSEX and General Secretary of the Sex Workers Organisation OTRAS in Spain:
"With our union, we will fight in a legal manner so that we have our rights which are professional rights, and we want that our working spaces are not criminalized. We want to be able to have contracts for people who work for third parties so that the employers are able to sign legal contracts with us so that we have a life that is in accordance with rights that belong to us."
Igor Bosc, Chief Technical Advisor in the Work in Freedom Programme at the International Labour Organisation (ILO):
"Sex workers are important for us and we try to keep abreast of the struggles that have happened in the different countries where we're working."

Karen Burbach, Head of the Taskforce Women's Rights & Gender Equality at the Ministry of Foreign Affairs in the Netherlands:
Matthew Parks, Parliamentary Coordinator at the Congress of South African Trade Unions (COSATU) in South Africa:
"We are a progressive trade union federation. We believe strongly in the empowerment of women and that would include sex workers. We believe sex workers are workers, like any other workers. They are entitled to the same rights and the same protections as any other worker would be entitled to."
Watch the full event below:
Dr. Thembisile Xulu, Chief Executive Officer at the South African National AIDS Council (SANAC) in South Africa: "Decriminalisation would maximise sex workers' legal protection and their ability to exercise their rights to justice and healthcare."
As a closing remark, Geetanjali added how significant it was "to be in the formal halls of the UN, even for some of us just virtually. It's a real breakthrough for a sex workers rights session to be supported by two governments in this space." She added that it's been an amazing experience to have this collaboration between a feminist consortium, labour unions, and many sex workers' rights organisations come together to co-create this panel.
Accessibility: practicing what we preach
CMI!'s vision is a gender equal and just world, where all women, girls and non-binary, gender non-confirming, trans and intersex people enjoy their rights fully and live to their full potential. For greater accessibility, the event was interpreted in Arabic, French, English, Spanish and Russian, allowing a more global audience to join the session. Sign interpretation was included as well as closed captions.
Increasing interest in sex workers' rights
Last but not least, we were happy to see 321 people joining the session! This number speaks firstly of the hard work that all the organisers put in the event. It also indicates the increasing interest to see sex workers' rights in the context of a larger frame, as an intersectional and feminist issue.
This has given us strong motivation to keep our work going and in making efforts to engage people from diverse sectors for advancing sex workers' rights.
This post was originally published on the WO=MEN in New York blog.