At CSW 67, with The Kingdom of The Netherlands, the Government of Canada, the Permanent Mission of Chile, and Our Voices, Our Futures (OVOF) consortium, Count Me In! Consortium (CMI!) organised a formal side event to share success stories and lessons learned of feminist online organising by structurally excluded communities.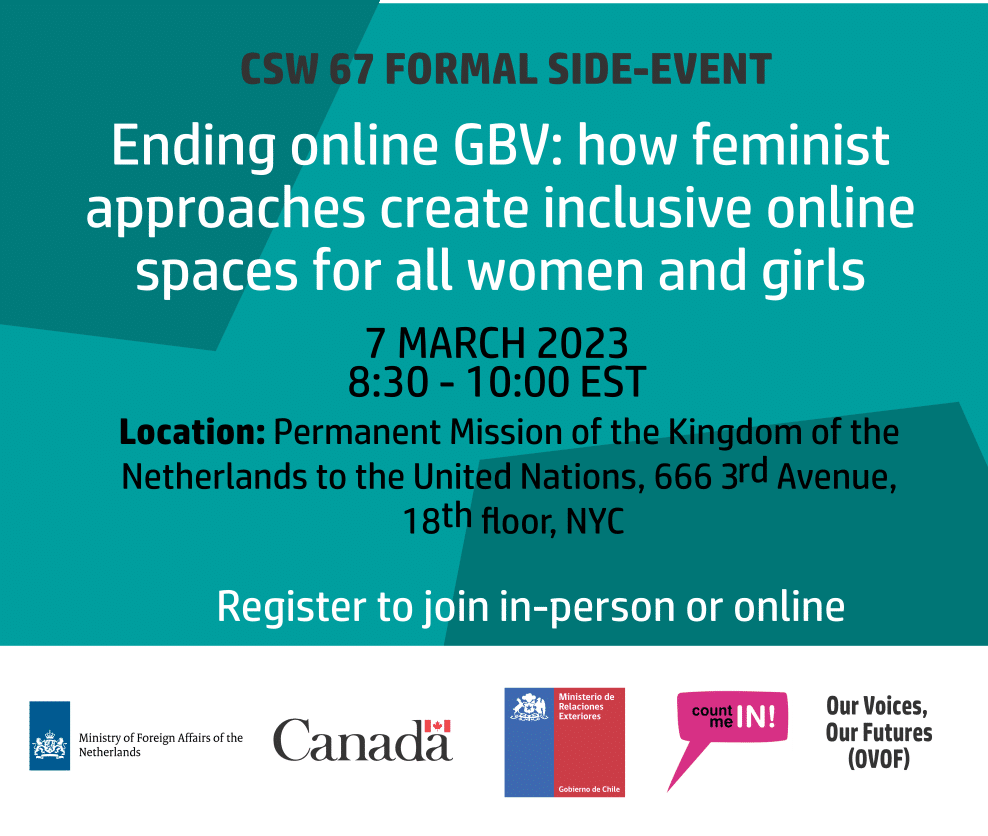 This is designed in line with the main theme of CSW67, 'Innovation and technological change, and education in the digital age for achieving gender equality and empowering all women and girls.' The larger framework of the side event will identify how governments and the UN can better protect and support movements in the digital era.
Time and date: Tuesday, 7 March, 8.30 am – 10 am EST
Location: Permanent Mission of the Kingdom of the Netherlands to the United Nations, 666 3rd Avenue, 18th floor.
Panellists
Moderator: Sheena Gimase Magenya, Our Voices Our Futures lead project coordinator
H.E. Evelyn Wever Croes, Prime Minister of Aruba
Karen Burbach, Head of the Taskforce Women's Rights and Gender Equality, Ministry of Foreign Affairs of the Netherlands
Sandra Aceng, WOUGNET in Uganda
Jules Kim, Global Coordinator of the NSWP
Tanveer Anoy (they/them), human rights activist and founder of Mondro, Bangladesh
Njeri Gateru, Executive Director at the National Gay and Lesbian Human Rights Commission (NGLHRC) in Kenya
You can register for the in-person event here.
You can also join the event online: Arabic, English, French and Spanish interpretation, international sign language, and close-captioning in English will be available. Register to join the event online.